| | | |
| --- | --- | --- |
| The Ultimate in Contemporary Clocks | | Established 1971 |
Crystal Audocron
A future design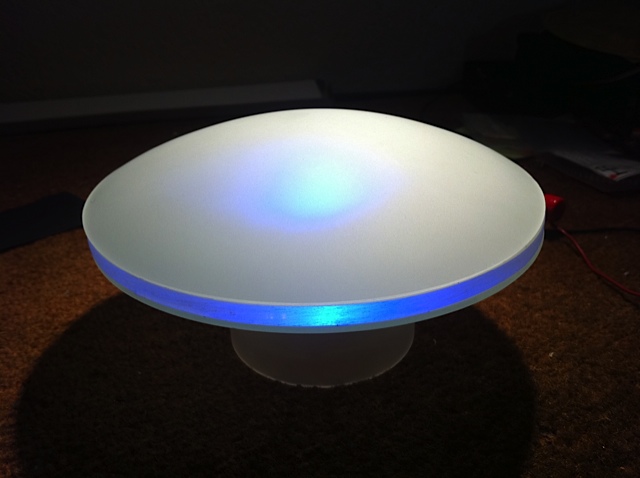 Design by Wayne Husted
Showing some of the design process:

The video shows a glass base tube but I will probably use polished Aluminum.

The acrylic layers have been made via laser cutting.

Trying out the chime and light in either the frosted, or clear glass top.

Setting the time and changing optional features will be done by tiltting the clock, left, right, forward, and backwards

.

Some optional features like hourly, half-hour, or quarter-hour chiming will also be controlled by tilting.

It may be powered both by battery and AC plug in power.

With AC power the light can be on all the time, slowly changing between random colors.

It will probably have a room light sensor, allowing the chime and/or light to be automatically turned down or off at night.

The optional features are still being dreamed up.

It should be very easy to change for daylight saving time (plus one hour or minus one hour).

The optional features you select will be stored in memory, so even when you lose power they will not be forgotten.

Guess the price will be between $159 (battery only, and only lights while chiming) and $179 (battery and AC power for continuous color changing lights).
When tilted, with a sweet dinner bell sound, it chimes out the complete time to the minute -- first the hours, then the 10's of minutes, then the minutes.

Just tilt it to hear the chimes tell time.

It automatically chimes on the hour. Visualize it on your coffee table. With your guests saying, "What is it?"

Great Wedding, Anniversary, or Graduation gift.

The gift where the giver is truly remembered.

Activated by tilt, AUDOCRON softly & sweetly chimes the time to the minute.

AUDOCRON's main functionality is to automatically chime the hour and optionally the half or quarter hour also -- a pleasant, noninvasive, delightful reminder of the time.

With each chime, AUDOCRON emits a band of light (like a space ship during lifting off).

It's charm is hard to define. It is music-box-like yet modern. It is mysterious yet simple. It goes well in both contemporary, and traditional settings. Both men and women love it. A conversation piece that makes adults want to giggle.

Size comparison. The new clock will have a slightly shorter base than shown in picture. The base tube will be polished aluminum. Only the center disk will be lit, not the entire clock as show in the photo.
To ask questions call 1-800-328-1895.
---
SPECIFICATIONS:

CASE:

ACCURACY:

POWER:

DIMENSIONS:

SHIPPING WEIGHT:

WARRANTY:

Glass case, Acrylic disk, polished Auminum base.

ONE MINUTE PER YEAR running on battery, or + or - 2 seconds on AC power (does not gain or lose).

9V ALKALINE BATTERY PROVIDES POWER FOR 12 MONTHS or AC with power adaptor.

3-5/8 in. HIGH, 6 - 3/8" in DIAMETER.

2 LBS.

ONE YEAR ON PARTS AND LABOR.
---