| | | |
| --- | --- | --- |
| The Ultimate in Contemporary Clocks | | Established 1971 |
The BIG Binary (a.k.a. Powers-of-2, or XLD)
To see our other clocks click here.
Especially look at Kaleidoscope, a new type of binary clock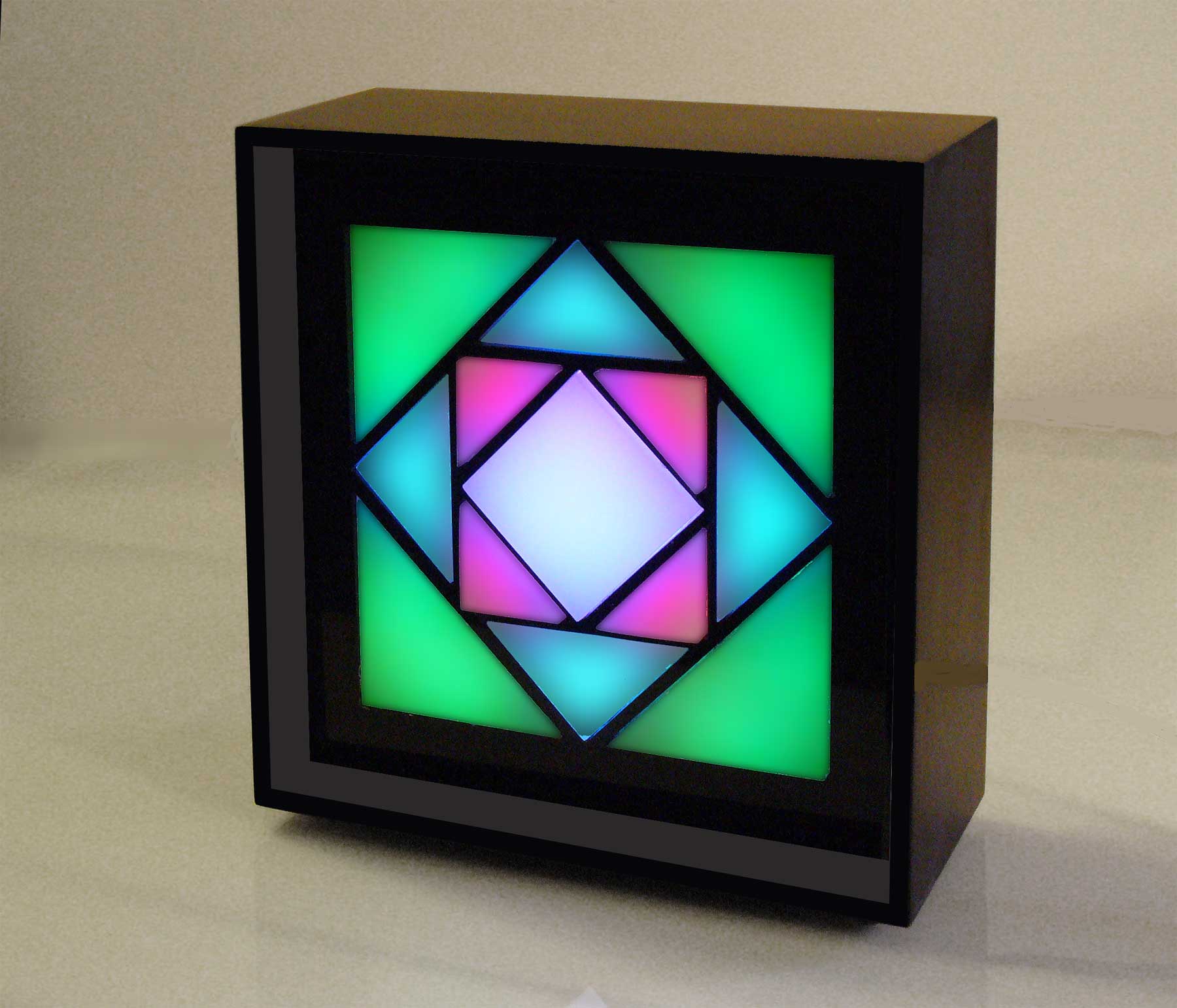 Or, here is the BIG Binary clock,
$49.00 (with Red LEDs)
Scroll down to Order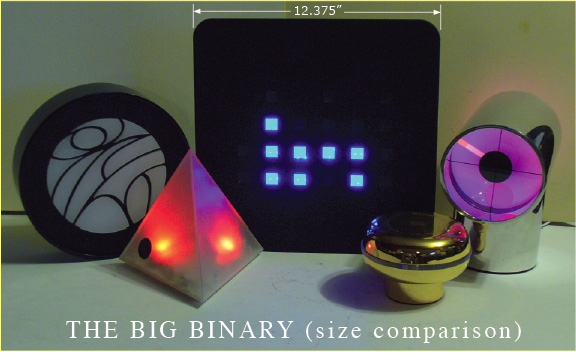 Time shown 7 : 32 : 30
(May be either wall mounted, or set on a credenza using built in stand)
Why do people like binary clocks so much? For some its educational, for others it's fun to puzzle their friends. Or, to see how much smarter kids are than adults, or....

Binary clocks bounce along in a playful dance.....

Or, you to notice the pattern gets symmetrical once a minute (at times less than 10 o'clock), and there is some strange desire to wait for that one second when the pattern is in balance -- we like to see order come from chaos.

Enough with tongue-in-check intellectualizing. :-) We like to have fun -- period!

The Big Binary clock's Features.

(boring but practical information)

12 or 24 hours display.

Two display modes:

Binary hours - binary minutes - binary seconds (each in a different row).

Binary Coded Decimal -- Binary 10's of hours, binary hours, binary 10's of minutes, binary minutes, binary 10's of seconds, binary seconds (each in a different column).

A three position adjustable stand for setting on that credenza.

A clear power cord, so wall mounting is more esthetically pleasing than with an ugly black cord.

Power backup of timekeeping for short power failures (requires 3 AA size batteries, not included)

A soft feeling black face that makes you want to pet it --- I have never before wanted to pet a clock before. :-))

If you don't know how to read a binary clock you must not be an alien. It requires a brain adjustment. Just look at the seconds advance for a couple of minutes and you will see the light and the logic. The frustration is that 8 year old child usually learns to read it very quickly, but of course we know they were really aliens to begin with!

If you really want to know how to read it download the pdf instructions below to have a really good time --- NOT! (excuse me, Saturday Night Live).
Sorry discontinue; to chat call 1-800-328-1895
There are several reasons to that it is best to order over the phone. If you live on the west coast shipping is less, and I will upgrade shipping for everyone from Parcel Post to Priority Mail for free. Or, if you want more than one, then the second one is $5 less. Plus, some days I am lonely and want to talk. Barry Gamble. :-))
or
Was offered in Red LEDs for $49.00 + $13.25 shipping (box weighs 5 lbs)
Specifications (the small print)
| | |
| --- | --- |
| Lamps | 15 year (to 1/2 brightness) blue light emitting diodes. |
| Accuracy | within 2 seconds as long as power is on. |
| Case | Matte black face with felt like feel. Black plastic back and stand. |
| | |
| Weight | 5 lbs. Shipping weight |
| Power | 115 VAC 50 or 60 Hz, 3 AA size used for battery backup, (batteries not included). Keeps time during power failures. |
| Dimensions | 12.375" Square X 1.25" D |
| Warranty | 90 days on parts and labor |
For question, or to order call 1-800-328-1895 and talk to me, Barry Gamble