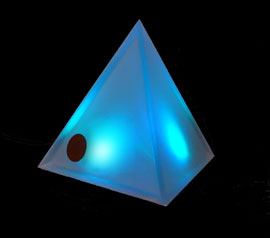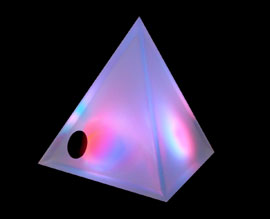 DreamTime – a color changing mood light – a sweet sounding chime clock
Attention:
This clock was first introduced in 2002. We made it for 2 years. Then it was discontinued. This first version sold for $119. We still offer repair services. You can recognize this version because there is no battery door in the base.
Then in 2005 the design was lisensed to Can You Imagine and they made some in China that were sold here in the U.S. It sold for between $39 and $49. The LED lights were of poor quality and failed very rapidly. We can put in better quality LEDs but the service is $49. It worked well other than the LEDs. The description below is for this China version.
Slowly changing beautiful colors, blue, magenta, aqua, and reds radiate from this modern tetrahedron sculpture. Four lighting modes: two speed of color changing, plus freeze on any color, plus lights off.
Case material is like glowing ice.
A wonderful night light, less than 5 watts of power.
A sweet, non-intrusive, hourly chime is a gentle reminder of the time. Volume control to adjust or disable the chime. May be set up to chime all hours, or OFF from 1 am to 7 am, or OFF from 10 pm to 8 am. There is also a half-hour chime which may be turned off. Plus, activated by your touch DreamTime chimes the exact time to the minute.
With each chime, DreamTime emits flashes of light – red for AM hours, blue for PM hours, red & green for the 10's of minutes, and green for the minutes.
Long life, 15 years to 50% brightness, light emitting diodes create the colors.
New: Three AAA size batteries (not included) provide power backup. Great for those of you in thunder storm areas.
Or call 1-800-328-1895
_________________________________________________________________________________
The Small Print (Specifications)
Color changing control: Two speeds, plus freeze, plus light off.
Chime: Hourly & half-hour (can disable half hour separately) with volume control & two late-night-off choices.
Accuracy: Within 3 seconds as long as power is on.
Dimensions: 6" High, 7.5" Wide, 6.5" Deep
Case: Frosted two side, 1/4" thick acrylic, with two polished metal touch pads.
Power: 5 watts (50 or 60 Hz) 120 VAC (240 VAC available). 3 AAA batteries (not included) insure time keeping during power failures.
Lights: 2 red, 2 blue, 2 green light emitting diodes with >10 year life. Three times brighter than normal ultra-brights.
Shipping weight: Less than 2 lbs.
Warranty: 45 days from the manufacture only (not ChronoArt). Covers parts and labor.
Colors generated by microprocessor driven LEDs.
Other thoughts
No motors to consume power, fail, or make noise. No color filter gels to fade with time.
Lights are two sets (2-Red, 2-Blue, 2-Green) of ultra bright (3 X brighter than normal ultra-brights) LED's (light emitting diodes)
Chime is a sweet, soft, non-intrusive, dinner-bell-like, hourly chime.
A pleasant reminder that your favorite TV show is beginning. Interestingly, after you use it for a while you will not hear it unless you want to.
Volume control to set just the sound level you desire, or OFF.
Time keeping works fine in Europe, just requires 115-230 transformer or adapter.
Or call 1-800-328-1895