EVENTIDE, A Great Wedding, Anniversary, or Graduation gift.
Looks great engraved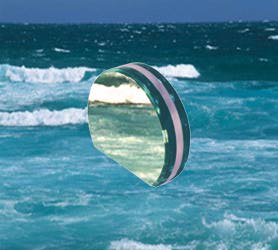 Highly polished 24k gold sides with glass green trim shown above.
Eventides charm is hard to define. It is music-box-like yet modern. It is mysterious yet simple. The 24k gold plated, or rhodium plated highly polished case radiates quality. It goes well in both contemporary, and traditional settings. Both men and women love it. A conversation piece that makes adults want to giggle. It arrives running, set to your time zone, for immediate delight.
Eventide's main functionality is to automatically chime on the hour, and to chime a "ding-dong" on the half hour -- a pleasant, noninvasive reminder of the time. Either or both of the chimes may be disabled.
Or, activated by your touch, Eventide softly & sweetly chimes the time to the minute. This is especially nice in the bedroom. Just touch it to hear the time without opening your eyes.
With each chime, Eventide emits a band of light.
Your factory direct price was $99 in rhodium (with blue trim) or in gold (with glass-green trim).
---
To ask questions or place an order call 1-800-328-1895.
---
SPECIFICATIONS:
CASE: Highly polished, engravable, brass that is rhodium or 24k gold plated. The rhodium comes with blue acrylic, the gold comes with glass-green acrylic. Rhodium is silver colored but does not tarnish like silver and is as expensive as plating gold.
ACCURACY: One minute per year.
POWER: 3v lithium battery provides power for 12 months.
DIMENSIONS: 3 in. high, 3-3/4 in. diameter, 3/4 in thick.
WEIGHT: 7 oz, shipping 1 lbs.
WARRANTY: one year on parts and labor.
Download a copy of operating instructions in pdf
Download inside of sales brochure, specifications in pdf